Is MTN OPS Ignite Bad For You? A Review of the Energy Drink Blend
If you are looking for a way to boost your energy and focus you may have come across MTN OPS Ignite.
It is a popular energy drink blend that claims to be formulated with healthy ingredients like amino acids and nootropics.
But is MTN OPS Ignite bad for you? or is MTN Ops Ignite healthy? and What are the benefits and drawbacks of this product?
In this post, we will review MTN OPS Ignite and help you decide if it is worth trying.
What is MTN OPS Ignite?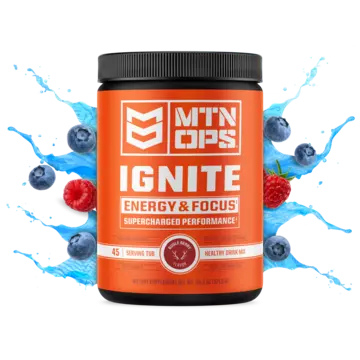 MTN OPS Ignite is an energy drink blend that comes in powder form and can be mixed with water.
It is designed to provide smooth and sustained energy without the crash that often accompanies other energy drinks.
It also helps enhance focus, clarity, and cognitive function by using a proprietary brain blend of nootropics.
MTN OPS Ignite comes in various flavors, such as blue raspberry lemonade, tiger's blood, peach zing, and more.
Is MTN OPS Ignite Bad For You?
The answer to this question depends on your personal preferences, goals, needs, and health conditions.
MTN OPS Ignite may be a good option for you if you are looking for a smooth and sustained energy boost with added benefits for focus and cognition.
However, it may not be suitable for you if you are sensitive to caffeine or sucralose or if you are looking for a more natural or affordable product.
Ultimately, the best way to find out if MTN OPS Ignite is bad for you or not is to try it yourself and see how it affects your body and mind.
Also, read Unlimitter Pill Reviews: Is this the ultimate brain booster?
MTN OPS Ignite Ingredients
According to the official website of MTN OPS, some of the main ingredients in Ignite are:
| Ingredient | Uses/Functions |
| --- | --- |
| Amino acids | L-citrulline and L-arginine, help increase blood flow and oxygen delivery to the muscles and brain by releasing nitric oxide. They also help prevent muscle fatigue and enhance muscle recovery after a workout. |
| Caffeine | A stimulant that boosts alertness, mood, and energy. Ignite contains 200 mg of caffeine per serving which is equivalent to about two cups of coffee. |
| Brain Blend | A proprietary blend of nootropics which are substances that improve mental performance. The brain blend includes choline bitartrate, ly-tyrosine, and DMAE bitartrate which help support cognitive function, memory, and mental clarity. |
| Sucralose | An artificial sweetener that is 600 times sweeter than sugar. Ignite uses sucralose to enhance the taste of the product without adding calories or sugar. |
Source: MTN OPS Ignite
Other ingredients in Ignite may vary depending on the flavor and formulation.
For instance, some flavors may contain natural sweeteners and flavors such as stevia leaf extract and fruit juice concentrate.
Some formulations may also contain other ingredients such as noni, green coffee bean, green tea extract, ginseng, l-theanine, and kola nut extract.
MTN OPS Ignite Nutrition Facts
| Nutrition | Quantity in 1 stick pack (12.5 g) |
| --- | --- |
| Calories | 30 |
| Fat | 0g |
| Carbs | 1g |
| Fiber | 0g |
| Sugar | 0g |
| Protein | 0g |
| Sodium | 0mg |
| Potassium | 0mg |
| Vitamin C | 60mg |
Source: MTN OPS Ignite
What Are The Benefits of MTN OPS Ignite?
According to the official website of MTN OPS, Ignite has several benefits for both indoor and outdoor activities.
Some of these benefits are:
What Are The Drawbacks of MTN OPS Ignite?
While MTN OPS Ignite may have some benefits for energy and focus it also has some drawbacks that you should be aware of before trying it.
Some of these drawbacks are:
MTN OPS Ignite Side Effects
Like any product that contains caffeine and other stimulants, MTN OPS Ignite may also have some side effects that you should be aware of.
Here is a possible list of MTN OPS Ignite side effects:
Please note that this list is not exhaustive and that these side effects may not affect everyone who uses MTN OPS Ignite.
Pros and Cons of MTN Ops Ignite
Some of the pros and cons of MTN OPS Ignite are:
Pros
Cons
Is MTN OPS Ignite Healthy?
MTN OPS Ignite may be healthy if you use it as directed and do not exceed the recommended dosage.
However, some of the ingredients in MTN OPS Ignite may have some potential side effects or interactions with certain medications or medical conditions.
Therefore, it is advisable to consult your doctor before using MTN OPS Ignite if you have any health concerns or questions.
Also, read Onnit Alpha Brain Black Label Review – An unhealthy choice?
MTN OPS Ignite Customer Reviews
To get a better idea of how MTN OPS Ignite works in real life, we decided to look at some of the customer reviews on Amazon.com, where the product has an average rating of 4.7 out of 5 stars from over 1,000 ratings.
Here are some of the positive and negative reviews we found:
Positive Reviews
"I've been using Enduro for my evening training sessions to avoid caffeine before bed and loved the product. MTN Ops sent me some Ignite samples that I used for morning hikes and thought they worked great. When it came time to buy some I ordered the Tiger's Breath after reading a good review. Big mistake. Tiger's Breath is barely drinkable. I love coconut but it is overpowering here. I can barely choke this stuff down. Once I do though, it works great. Helped get me through some 20+ mile, all day hikes."

- Mark Ross
"Favorite flavor by far!"

- Lauren Thomas
"Great taste. Replacing my monster energy drinks in the morning."

– Ashley Smith
"Our family is a huge fan of mountain ops! We all drink it on a daily basis. We love the vitamins that it provides us with and for the first time in my 32 years of life, since drinking MTNOPS my lab work that was done recently by my doctor were perfect!!! I seriously and firmly believe consuming MTNOPS aided in this since I only started drinking it a year ago! I highly recommend any of their flavors! Bugle Berry mixes great with other flavors too! I sometimes add it to purple Gatorade for a tasty drink!"

– Alisha
"Mtn Ops does a INCREDIBLE job providing a superb energy supplement. After deciding to quit drinking energy drinks, coffee just wasn't cutting it. Coffee never has really affected me at all other than getting my bowel movement going. So after a couple months of being groggy, tired and unfocused I decided to try out Mtn Ops. The ingredients don't contain any trash like most of the powders out there, and the price is actually decent considering you get 45 servings. The HUSH lemonade is phenomenal. So if you're on the search for a good alternative to energy drinks, coffee, or whatever then this is most definitely worth a try."

- Quinn
Negative Reviews
"Unfortunately, the green apple flavor isn't meeting the same quality of the previous flavors. My household has went through about 15 tubs of the ignite and it always arrives in powdered form, not one big hard lump of product. The quality has always been great before, but I've now received 2 green apple tubs, both of which were hardened. The first definitely had a failed safety seal, but the second tub seemed to have the safety seal still intact, yet it was still hardened into big lumps. I'm disappointed with the quality of the green apple ignite."

- Kindle Customer
Based on the MTN OPS Ignite customer reviews we have seen, it seems that most of the users are satisfied with the product and its effects.
They praise its taste, quality, ingredients, and benefits for their energy, focus, mood, and performance.
However, some users also report some issues with the product, such as bad flavor, hardening of the powder, stomach problems, and high price.
Summary
In conclusion, MTN OPS Ignite is not a bad energy drink for you if you consume it in moderation and as directed.
It contains natural ingredients, amino acids, and nootropics that can boost your energy, focus, and cognitive function.
It also has low calories, carbs, and sugar making it a healthier alternative to other energy drinks.
However, you should be aware of the caffeine content and potential side effects of MTN OPS Ignite especially if you have any medical conditions or sensitivities.
Always consult your doctor before using any supplements or energy drinks. Remember to stay hydrated and balanced when using MTN OPS Ignite to get the most out of your day.
The Bottom Line
I hope this blog post was helpful and informative for you and it helped you learn whether MTN OPS Ignite is bad for you.
If you have any experience with MTN Ops Ignite, feel free to share your experience in the comments below.
We would love to hear from you.
Thank you for reading and have a great day!
Frequently Asked Questions
What is MTN OPS Ignite?
MTN OPS Ignite is a supercharged energy and focus hydration supplement that contains amino acids, nootropics, and caffeine.
How do I use MTN OPS Ignite?
Mix one serving (1 scoop) of MTN OPS Ignite in 10-16 oz of water and drink before or during any activity that requires energy and focus.
How much caffeine is in MTN OPS Ignite?
Each serving of MTN OPS Ignite contains 200 mg of caffeine, which is equivalent to about two cups of coffee.
What are the benefits of MTN OPS Ignite?
MTN OPS Ignite can help you improve your focus, energy, hydration, cardiovascular endurance, mental clarity, cognitive function, and mood.
What are the flavors of MTN OPS Ignite?
MTN OPS Ignite comes in various flavors, such as black cherry, peach zing, pink lemonade, green apple, and more.
Where can I buy MTN OPS Ignite?
You can buy MTN OPS Ignite online from the official website or from other authorized retailers.